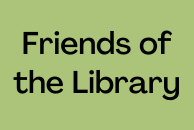 The Friends are a vital part of the library community. As state budgets diminish, the Friends role as fundraiser is becoming more important. They hold numerous fundraising events throughout the year and earn funds for the Library by selling Middlebury Public Library tote bags and supplying snacks at the Library's Hardback Café.
The Friends also provide volunteers for numerous library events. For the latest volunteer opportunities see The Friends Facebook page.
These activities along with your donations either fund or provide supplemental funds for the following:
Summer Reading Clubs for kids, teens, & adults
Let's Talk About It Book Club
Yak, Snack, & Read Book Club
Books & Brews Club
Discover more about Friends membership and how they benefit the Middlebury Public Library, and to apply, see the brochure.